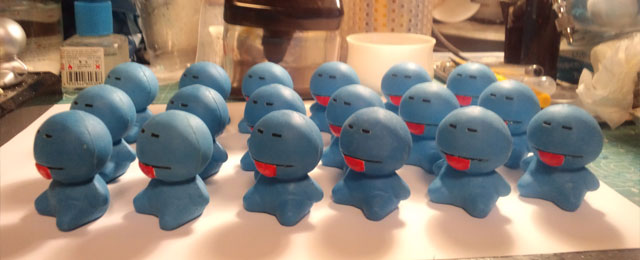 As most people may expect, the new project is "LA-MULANA2".
We are exhibiting the playable demo at indie game area of TOKYO GAME SHOW.
Although I say it is a playable demo, you can only walk about the new field. You may feel the beginning of a new adventure.
But it was made for TGS, we are going to start the development from zero after TGS.
I am sorry to say – I can't tell any information yet on the special website. But we allow you to photograph our booth. So, people who can't come to TGS please search photos will be uploaded by visitors of TGS.
Naramura may be absent from our booth tomorrow because I have been busy since morning.
People who would like to meet me might want to come to our booth today.
I may look around the other booths of indie game developers.
Don't say "LA-MULANA again!" I'd rather I say that.
To tell the truth, this project launched when we began to develop WiiWare version's LA-MULANA.
Before we set up NIGORO, we originally had an idea that making a game is
such a tough work, so we wouldn't last unless we publish another game
using same system and replaced data.
LA-MULANA2 was born on that idea, and I would have to say "New scenario on LA-MULANA system".
This is a sequel to LA-MULANA that we were saying it was impossible.
You might think "Can you make the continuation of that story?" or "Is there few idea for the ruins game?"
So, I said this project had simultaneously started with LA-MULANA four years ago.
We
will give away new information little by little. In the meantime, how
about finding underplots of LA-MULANA2 that are scattered in LA-MULANA?