We've been carefully going through all of the reports received from players and have implemented all sorts of fixes and updates, which have been made available as of today in the ver. 1.4.4.2 update.
We've implemented the much-requested loading screen, and cloud saves are now available as well. Some of the Encyclopedia entries have been updated with new sketches, so if you've cleared the game, be sure to check out the Encyclopedia!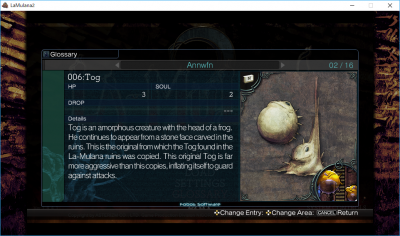 Please Note
**After updating, you will need to configure your gamepad's directional key (first time only).**
**You can configure these settings from the "SYSTEM CONFIG" item on the bottom-right side of the title screen.**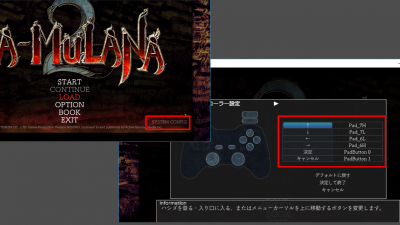 1.4.4.2 Update Details
– Optimized certain processing.
– Fixed gamepad compatibility and behavior.
– Fixed bug causing CPU running at 99-100% while launching the application.
– Fixed bug preventing events when equipping Gale Fibula.
– Fixed bug causing stuck when releasing Ankh while using Lamp of Time.
– Fixed bug making it impossible to fight certain Room Guardians again after warping during battle.
– Add some sound and graphic effects.
– Reconsider preventable attacks and non-preventable attacks by Shield.
– Fixed/adjusted platform certain Room Guardian/Guardian's field.
– Replaced all illustrations in the Glossary.
– Fixed, adjusted and added text.
– Fixed other small bugs.
– Supported Steam cloud Save.
– Fixed tag information for the OST.
The Autumn Sale is on Now!
Additionally, LA-MULANA 2 will be available at a 20% discount until
10:00am on 11/27 during our Autumn Sale, so don't miss out!
LA-MULANA 2: $24.99 → $19.99 (20% OFF!)
LA-MULANA 2 OST: $14.99 → $11.99 (20% OFF!)
The original LA-MULANA is also available for $4.94 – an amazing 67% off!
LA-MULANA 1: $14.99 → $4.94 (67% OFF!)
LA-MULANA 1 OST: $14.99 → $4.94 (67% OFF!)
BUT THAT'S NOT ALL
You can purchase LA-MULANA and LA-MULANA 2 together as a set for a further 15% OFF!
If you've already purchased one but not the other, you can buy the one you don't yet own for a further 15% discount off of the sale price!
Purchase the set here:
https://store.steampowered.com/bundle/7987/LaMulana_Bundle/
Take advantage of the extra-long autumn nights to get your exploration-adventure fix!